The Shopping Channel announces Richard Nester will retire as host on December 16, 2023, following 21 years of delighting customers across the country with his charismatic quick-wit and infectious energy. Host Sean Keane will take over Nester's hours on TSC.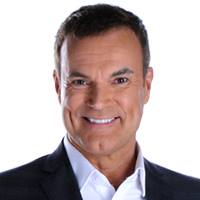 "It is with mixed emotions that I have decided to retire as host of TSC and say goodbye to our amazing viewers, many of whom I have had the honour of meeting over the years and am lucky enough to still call friends today," said Nester. "I started this journey with a suitcase full of dreams and today that suitcase is full of memories. But this isn't the end of my TSC chapter – I'm already at work with the team here on a brand-new project and can't wait to share those details with everyone early next year."
A  Niagara, ON native, Nester moved to Toronto 36 years ago, where he worked behind-the-scenes at TVO before making his on-screen debut at TSC. Since joining the company in 1995, Nester has relished the opportunity to work in the fast-paced, dynamic environment of live TV, introducing customers across the country to the latest and greatest TSC products. He counts getting to know the late Joan Rivers, meeting viewers from all over Canada, and working with big names like George Foreman, Suzanne Somers, and Richard Simmons as career highlights.
"Having only joined TSC in August, my time with Richard has unfortunately been brief, but the impact he has made on the company, his coworkers, and our loyal customers is undeniable," said Anne Martin-Vachon, President, The Shopping Channel. "His energy and optimism will be sorely missed in these halls, but on behalf of the whole TSC family, we wish him a wonderful retirement and look forward to continuing to work with him in an exciting new capacity."