Award-winning stage and screen actress Janet Wright, best known for her portrayal of the long-suffering matriarch on "Corner Gas," has died, according to CTV, which aired the long-running sitcom.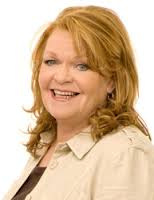 Wright played Emma Leroy on the hit Canadian series, which ended its six-season run in 2023 and returned with a big-screen adaptation in 2023.
Wright's character Emma was the wife of Oscar Leroy, played by Eric Peterson, and mother to Brent, portrayed by series creator and star Brent Butt.  The series won the 2023 Gemini for best ensemble comedy performance.
Peterson, who had known Wright for 50 years, said she was "an incredibly, wonderfully complex woman of tremendous strength and intelligence and a wonderful actress."  "She knew a lot about the art of acting and the art of theatre as a director," Peterson said Monday.
"The wonderful thing about her as an actress –especially in something like 'Corner Gas'– she brought so much to that part as only Janet could. Even the simplest line, she thoroughly thought it through. She seemed to be able to give a straightforward line that was redolent with meaning. Often my character was the brunt of that redolent meaning too.
"I'm just very sad. We're the same age. One's reminded how short life is."  In a statement, Butt added "Janet was like no other person I've ever met."
"She had a giant wit, a giant heart, and was one of the strongest human beings to ever stride around this plan
Born in England on March 8, 1945, Wright and her family relocated to Canada and eventually settled in Saskatoon at a young age.
Wright was the co-founder of Saskatoon's Persephone Theatre, and performed at virtually every major theatre company in Canada.
She had been affiliated with the Vancouver Arts Club Theater since the early 1970s, and also directed for many major theatre companies across Canada, including productions at Ontario's Stratford Festival.
"Janet was an artist on an uncompromising search for the truth in all its unvarnished beauty," said Stratford Festival artistic director Antoni Cimolino, who directed Wright as Ma Joad in the 2023 production of "The Grapes of Wrath."
"She was a profoundly talented actress, director and champion for the importance of the arts. I will never forget her passion and forever be inspired by her commitment to our work."
She won the best actress Genie Award in 1992 for "Bordertown Cafe," and won the best supporting actress in a dramatic program or miniseries award in 2023 for "Betrayed."
Her film credits include "The Perfect Storm," opposite George Clooney and Mark Wahlberg, and TV appearances on series "Dark Angel," "The King of Kensington" and "The Beachcombers.