Maxime Rémillard, President and Chief Executive Officer of Groupe V Media, is pleased to announce the appointment of Dimitri Gourdin as Executive Vice-President, Strategy and Communications.  In this capacity, he will assume a leading role in the management of the company's corporate, public and governmental affairs, marketing and communications as well as act as company spokesperson.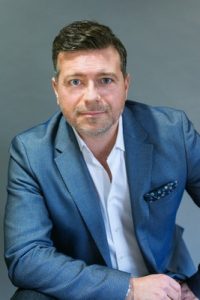 "With exciting challenges lying ahead for our company, Dimitri's vast experience in strategic communications and reputation management, his outstanding knowledge of the business world and his experience as an agent of change will be major assets in our quest to achieve our business objectives", explains Maxime Rémillard. "The brands and the reputation of our company are more important than ever and it's essential that Groupe V Media leverage these significant assets. Dimitri's expertise in the management of brands and his proven ability to enhance their value will enable us to continue to excel in an industry experiencing momentous change," he concludes.
Dimitri Gourdin adds: "I agreed to join Groupe V Media because I was attracted by the company's bold and innovative character. Media companies have no choice but to adapt in the face of the profound changes taking place in the industry. In my opinion, Groupe V Media is the best positioned and best equipped to realize the major shift that is required.  It's in its DNA. With Maxime, we will consolidate the conventional and specialty networks business models, while increasing the value of the brand through a diversification of our sources of revenue in media and non-media opportunities. We are already working on many projects which will be announced soon".
Before joining Groupe V Media, Mr. Gourdin was Senior Vice President and General Manager of the Montreal office of the international strategic communications and lobbying firm, Hill+Knowlton. He has almost 20 years experience in strategic affairs, marketing, communications and public relations, both as an entrepreneur and senior executive. Recognized by his peers, Dimitri is a regularly invited lecturer and/or panelist in various conferences and schools. He is a member of the board of several pan-Canadian organizations. He graduated with a degree in law and management.