CP24 announced moments ago that Gurdeep Ahluwalia has been named News Anchor of CP24 BREAKFAST on weekdays. Ahluwalia joins co-hosts Pooja Handa, Steve Anthony, along with Bill Coulter, Mika Midolo, Cam Woolley, and Bob Summers starting Wednesday, July 20.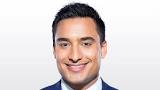 A familiar face to CP24 viewers, Ahluwalia's return to CP24 marks a homecoming to the station, where he garnered a loyal following in his role as an anchor and reporter from May 2023 until November 2023, and a return to his CP24 Breakfast roots, where he co-hosted the weekend edition of the program from its inception (2011-2013).
"Returning to CP24 is the happiest of homecomings for me. I'm honoured to rejoin the uber-talented  team on weekdays," said Ahluwalia. "As a born and bred Torontonian, I look forward to waking up with viewers across the GTA who rely on CP24 for the latest breaking news, weather, and traffic, along with plenty of conversation and laughs to get the day started."
"A reporter and anchor of the highest caliber, Gurdeep has served CP24 viewers with distinction during some of the city's most memorable weather events, municipal, provincial, and federal elections, G20, on the Olympic Desk, and countless major events in the city," said Joanne MacDonald, Vice-President, CTV News. "We are delighted to welcome Gurdeep back to the CP24 team, and look forward to having him guide viewers through the breaking headlines that affect everyone in the city."
Ahluwalia returns to CP24 from TSN, where he was both a host and reporter for SPORTSCENTRE.   While with TSN from 2023-2016, Ahluwalia also fronted the network's national coverage for major sporting events, including NCAA March Madness.
A graduate of the Mass Media Communications and Sociology program at McMaster University, Ahluwalia worked as sports editor for the campus newspaper and hosted/produced a sports talk radio show on 93.3 CFMU McMaster Campus Radio.
Dedicated to numerous charitable organizations across the city each year, Ahluwalia takes the time to work with Sick Kids Hospital, Road Hockey to Conquer Cancer, Wellspring, Camp Ooch, World Animal Protection, and Motionball.